The more things change, the more they stay the same. This is true for the Dead Rising series and the town of Willamette, Colorado — the setting for the first entry in the series, and the latest, which also sees the return of original protagonist Frank West.
In despite of the best efforts of all involved to avoid the sins of their past, the trio are somehow doomed to repeat them. In Willamette — the unluckiest town in America™ — despite an assortment of panic rooms and zombie-proof bunkers, still crumbles under the zombie assault. Frank West, the photojournalist lucky enough to survive the first attack and escape a zombie-filled life apart from the occasional appearance in downloadable content, is pulled out of his life as a discredited evening class photography instructor and back into the fray with the hope that this time, this time, he might finally snatch his Pulitzer. He's leaner now; he's got a new voice actor and with his chiselled lines you can almost forget the pudgy hero of the first outbreak.
There are more zombies than ever before, more ridiculousness, and the removal of the overarching time structure that pinned the previous Dead Rising games together, even if the spectre of the series' obsession with time lives on in spirit with timed sub-objectives and constantly emerging secondary objectives. Dead Rising, as a franchise, has tried its hand at reinvention too. Despite all of the new ideas and the smart reincorporation of location and character from the first game, Dead Rising feels the same as its predecessors, and indeed after 20 hours of play, it's petered out as I get bored of mashing up the endless sea of zombies with the wealth of weapons and vehicles on offer.
Frank remains an almost master-level jackass, refusing to help transport wounded survivors because 'he's got things to do', while clad in a 'I survived Willamette 2006' t-shirt, or perhaps the Street Fighter II Christmas jumper that I found in a Capcom fan-shop in game. Dead Rising is rarely taking itself seriously, and it's those moments when the game shines brightest.It's a funny game. It's impossible to take the act of stomping through the hordes of zombies seriously, and in presenting a universe of sheer ridiculousness, it often succeeds in being compelling for as long as you can find that fun.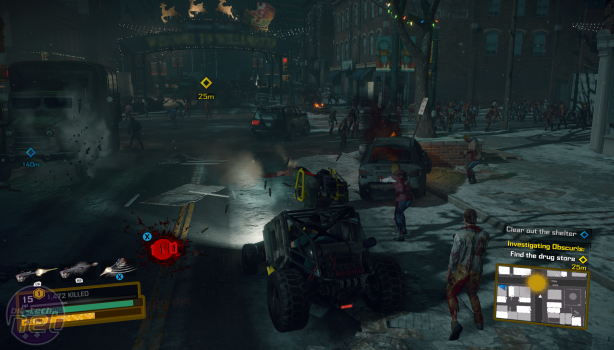 The story can be summed up in a sentence like, 'the government is messing with forces it can't control and is actually bad', and despite new enemy types being introduced through play most of them can just move a little bit faster or take three whacks from your big combo weapon instead of a single blow.There isn't a lot here beyond the slaughter of zombies in a multitude of ways, and your tolerance for that will put a distinct mileage on the game for you.